Contact Us
Our success is displayed by our continued ability to grow in new marketplaces. These two divisions combine to give DFE a very comprehensive database of electrical costs that continues to be updated with every estimate. This information continues to help make our estimates and budgets complete and competitive.
Budgets/Estimates- Our formats are easy to read and follow. We provide the necessary details to allow the owner and design team to make decisions early in the process.

Design Options- During the design process it is imperative to look at all available options to meet the owner's intent. With DFE's vast experience we can explore more options than most companies.

Cost Saving Methods/Project Enhancement - Along with our goal to suggest cost-saving methods, we also have an obligation to the owner and design team to explore possible project enhancements and how they can improve the project either during construction or long after the construction team has left.
If you have questions or comments regarding our products and services, please give us a call or send us an e-mail. A representative from DFE will gladly respond to your request as soon as possible.

Massachusetts License #xxxxx
Bonded / Insured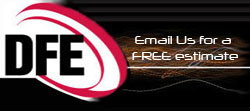 Our Mission at Dean Fantini Electric is to provide our customers with the highest quality electrical service possible. We pride ourselves on the ability to respond quickly to our customers and attain all their electrical needs.